Should You Get The Extended Warranty?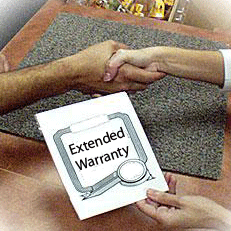 Almost all major appliance stores in the country today will offer the largest, most vivid color television with 1080p HD display and other bells and whistles that are sure to attract the most savvy tech consumer. The good news is that many of these TV sets are currently selling for around $500, which is far cheaper than what they were going for two or three years ago. The bad news is that you'll have to wade through the salesman's extended warranty pitch many, many times.
It's hard to say no to extended warranty, especially if the sales attendant keeps pressing and pressing until you just say yes just so he goes away. While these warranties might be useful for certain times in the future, they're really just a way for the company to squeeze more money out of the customer. In most cases, extended warranties can cost up to half of the item that you're buying.
Experienced salesman won't badger you into getting the warranty. Instead, they'll try to guilt you into thinking that any malfunction in your TV set will cost more to repair without the warranty. This makes it easy to buy into the service just for your peace of mind.
The best way to avoid unnecessary expenses would be to research thoroughly about your intended purchase, and see how other customers rate the appliance. They're indication of how tough and long- lasting the appliance is will be a far better protection system than any unneeded warranty.